Market to take cues from data, vaccine rollout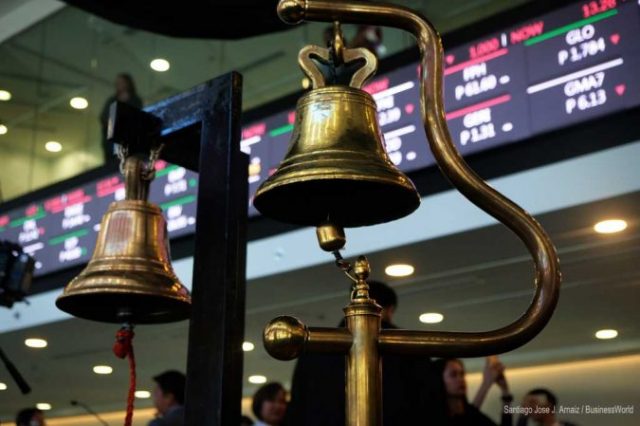 INVESTORS will watch out for the government's decision on quarantine measures, progress in the vaccination program, and the release of more economic reports this week, analysts said.
The 30-member Philippine Stock Exchange index (PSEi) went up by 32.08 points or 0.46% to close at 6,907.79 on Friday, while the broader all shares index gained 20.29 points or 0.48% to finish at 4,174.65.
Week on week, the index gained 111.45 points from its 6,796.34 finish on June 4.
"The market advanced to the 6,900 level [last] week, as investors felt positive over the economic reports that were released this week in the country… despite the negative report about the unemployment rate," Darren Blaine T. Pangan, trader at Timson Securities, Inc., said in a Viber message on Friday.
"The progress made over the country's vaccination program may have also contributed positively to the market sentiment," Mr. Pangan added.
The country's unemployment rate was at 8.7% in April, higher than the 7.1% logged the previous month, the Philippine Statistics Authority (PSA) reported last week. Meanwhile, preliminary results from the agency's Monthly Integrated Survey of Selected Industries showed factory output surged in April to 162.1% year on year.
On the other hand, the government last week started to inoculate those in the A4 category or economic frontliners, covering some 35 million persons.
It also received its biggest single-day vaccine delivery of around 3.2 million coronavirus disease 2019 (COVID-19) jabs from China-based Sinovac Biotech Ltd. and from Pfizer, Inc. and BioNTech SA. Over 11 million more doses of COVID-19 vaccines are scheduled to arrive this month.
Meanwhile, Rizal Commercial Banking Corp. Chief Economist Michael L. Ricafort noted the increase in net foreign buying at the stock market in the past two weeks.
For this week, Mr. Ricafort said the progress in the country's vaccination program will continue to contribute to the market's movement.
"But new COVID-19 cases still need to ease/improve further while waiting for the expected increase in COVID-19 vaccine arrivals and rollouts partly through intensified observance of strict health protocols/other stringent measures," Mr. Ricafort said in an e-mail on Friday.
Central bank data on remittances and the country's balance of payments to be released this week will also be drivers for the PSEi, he added.
"Catalysts that may affect the market include the government's decision on the quarantine measures to be implemented after June 15, as well as other economic reports such as the dollar reserves of the country for the month of May," Timson Securities' Mr. Pangan said.
"Resistance to watch may be placed at 7,080, while the 6,760-6,800 level may be considered an immediate support area," he added. — K.C.G. Valmonte