Peso to rise vs dollar ahead of Fed decision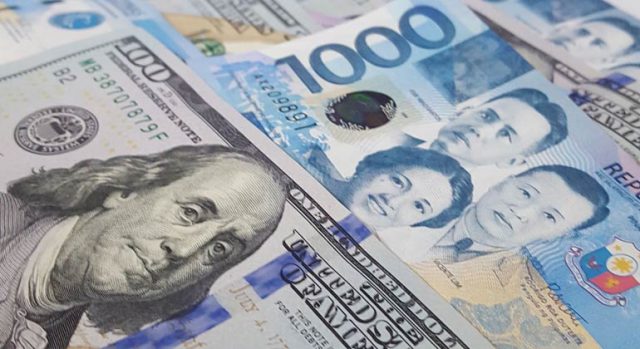 THE PESO is likely to appreciate versus the greenback this week ahead of the US Federal Reserve's policy meeting, where it is expected to keep borrowing costs low to support the recovery of the world's largest economy.
The local unit closed at P47.70 per dollar on Friday, strengthening by 6.5 centavos from its P47.765 finish on Thursday.
It also gained five centavos from its P47.75-per-dollar close on June 4.
Rizal Commercial Banking Corp. Chief Economist Michael L. Ricafort attributed the peso's strength to the US jobs data released on Thursday.
US inflation data released that same day also backed the peso, UnionBank of the Philippines, Inc. Chief Economist Ruben Carlo O. Asuncion said.
US consumer prices rose solidly in May, leading to the biggest annual increase in nearly 13 years as a reopening economy boosted demand for travel-related services, while a global semiconductor shortage drove up prices for used motor vehicles, Reuters reported.
The consumer price index (CPI) increased 0.6% last month after surging 0.8% in April, which was the largest gain since June 2009. Food prices rose 0.4%, but gasoline declined for a second straight month. In the 12 months through May, the CPI accelerated 5.0%. That was the biggest year-on-year increase since August 2008 and followed a 4.2% rise in April.
Inflation could get a boost from the labor market, where layoffs are subsiding. In another report on Thursday, the US Labor department said initial claims for state unemployment benefits fell 9,000 to a seasonally adjusted 376,000 for the week ended June 5.
Though layoffs are subsiding, claims remain well above the 200,000 to 250,000 range that is viewed as consistent with a healthy labor market. They have, however, dropped from a record 6.149 million in early April 2020.
For this week, peso-dollar trading could be driven by the upcoming policy review of the US central bank, where it is expected to maintain rates and give further signals on its plan to taper its massive bond-buying program, Mr. Asuncion said.
The Federal Open Market Committee will meet to review its stance on June 15 to 16.
The Fed has said rising inflation will not last long enough to warrant a sooner-than-expected end to easy-money policies. It has maintained that it has the tools to deal with accelerating inflation.
The central bank may open discussion at the meeting about when to begin unwinding its $120 billion per month purchases of government bonds, though most analysts don't expect a decision before the Fed's annual Jackson Hole, Wyoming, conference in August.
Meanwhile, Mr. Ricafort said Philippine remittances data due could also be a driver for the peso this week.
The Bangko Sentral ng Pilipinas (BSP) is expected to release the April remittances data on June 15.
Cash remittances increased by 4.9% to $2.514 billion in March, marking the second straight month of a year-on-year increase in inflows, latest BSP data showed.
For this week, Mr. Ricafort gave a forecast range of P47.60 to P48.85 per dollar, while Mr. Asuncion expects a wider band of P47.60 to P47.90. — LWTN with Reuters