New COVID-19 cases dip below 7k for the first time in over 2 months
Breaking News, Latest Philippines Headlines, World, Entertainment, Politics, Weather & Video News
New COVID-19 cases dip below 7k for the first time in over 2 months


on
October 18, 2021
ICU bed utilization rate also decrease to 59 percent in Metro Manila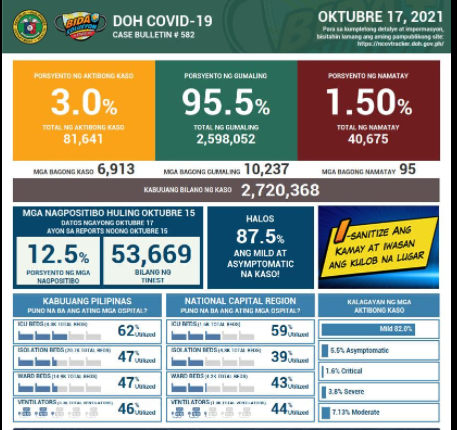 (Eagle News) — The Department of Health recorded 6,913 new COVID-19 cases on Sunday, Oct. 17, and more recoveries at 10,237.
This is the lowest in over two months and the first time that cases dipped below 7,000 since Aug. 3. New COVID-19 cases recorded at the time were at 6,879.
Total COVID cases reached 2,720,368 since the pandemic began in March 2020. However, most of these cases, 95.5 percent, are recoveries (2,598,052).
The virus cases that are still active in the country are 81,641 or 3.0 percent of total COVID cases. This was lower than the Oct. 16 total active case count of 85,048.
There were also less COVID-19 deaths reported on Sunday, Oct. 18, at 95. On Saturday, COVID deaths were higher, 156; On Friday, it was even higher at 203.
Most of the active cases are still either mild or asymtomatic at 87.5 percent.
The positivity rate for COVID-19 tests from data as of Oct. 17 is at 12.5 percent.
As of Sunday, Oct. 17, ICU utilization rate in Metro Manila dipped is now at 59 percent. The last time that the ICU utilization rate in the Philippine capital region is at this level happened on Aug. 7.
At present, nationwide the ICU utilization rate is at 62 percent.

(Eagle News Service)

Related Posts