Obiena sets new PH pole vault record, takes silver in Paris Diamond League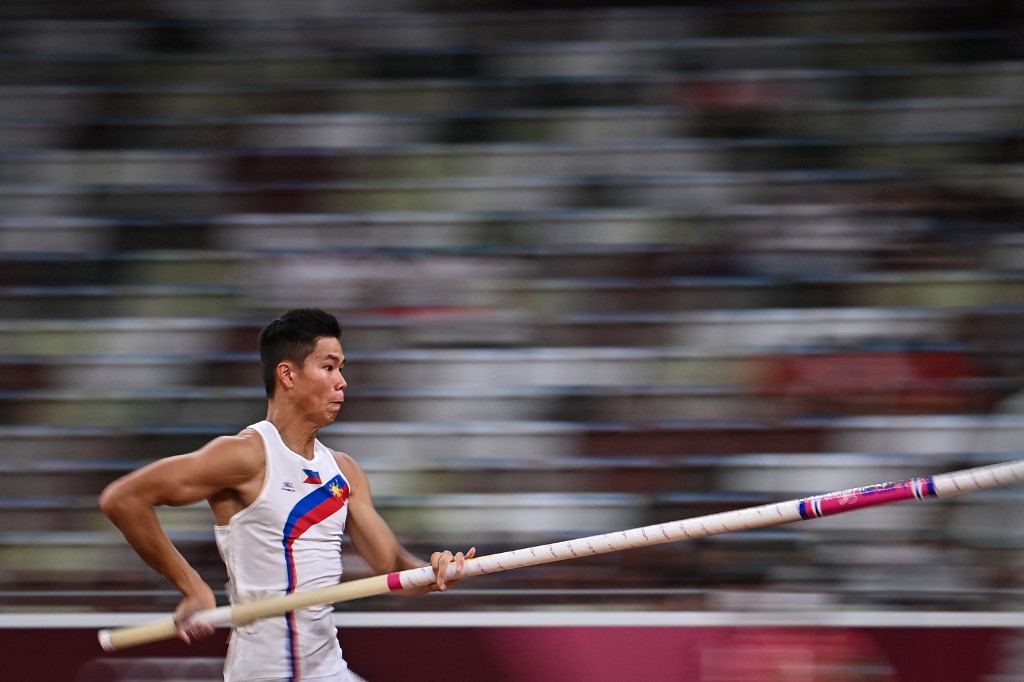 Philippines' Ernest John Obiena competes in the men's pole vault final during the Tokyo 2020 Olympic Games at the Olympic Stadium in Tokyo on August 3, 2021. (Photo by Ben STANSALL / AFP)
MANILA, Philippines—EJ Obiena set a new personal and Philippine record in his silver medal finish in the pole vault competition of Meeting De Paris, part of the 2021 Wanda Diamond League, Saturday (Manila time).
The Filipino Olympian cleared 5.91 meters to supplant his previous record of 5.87m that he set in Poland in July 2020.

ADVERTISEMENT

Tokyo Olympics gold medalist Armand Duplantis secured the title and new competition record in Paris when he vaulted 6.01m.
Both Duplantis and Obiena had better outings in Paris after they finished fifth and fourth in Lausanne, Switzerland just several days before the competition in France.
Christopher Nilsen took the Paris bronze medal clearing 5.81 meters.
With just the podium finishers left in the competition, Obiena took the initiative and went for the first attempt at 5.91m which he cleared in his initial try.
Duplantis and Nilsen both failed to clear 5.91m in their first attempts but decided to go for a pass and went straight to 5.96m.
Nilsen, already with a failed attempt at 5.91m, botched his two tries at 5.96m while Duplantis cleared the height in his first attempt en route to his gold medal performance at 6.01m and in the process set a new competition record beating Sam Kendricks' 6.00m clearance in 2019.
Obiena, who failed at his two attempts at 5.96m, decided to move on to 6.01m but that two ended in a botch.
Duplantis, after securing the gold, tried to vault over 6.19m but failed in his attempts.
gsg

Get the hottest sports news straight into your inbox


Read Next


Tokyo Paralympics: PH's Gawilan advances to finals of men's 400m freestyle


EDITORS' PICK


MOST READ


Don't miss out on the latest news and information.




View comments