Spence's trainer says ward would've knocked out Pacquiao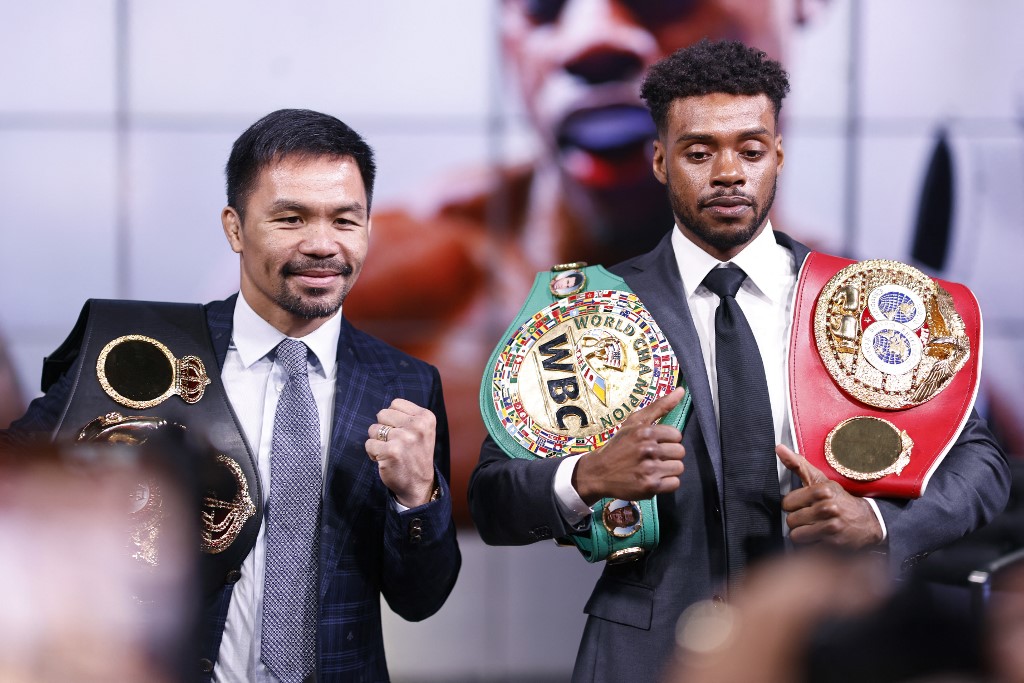 FILE–Manny Pacquiao and Errol Spence Jr pose for the media following their press conference at Fox Studios on July 11, 2021 in Los Angeles, California. Their fight is scheduled on Aug. 21, 2021 at T-Mobile Arena in Las Vegas, Nevada. Michael Owens/Getty Images/AFP
MANILA, Philippines — Derrick James, trainer of two-belt champion Errol Spence, is convinced that his ward would've put Manny Pacquiao to sleep had their welterweight showdown pushed through.
Spence was originally Pacquiao's opponent on Sunday before the unbeaten American had to withdraw due to a torn retina 11 days prior.

ADVERTISEMENT

Filling in for Spence was

Cuba's Yordenis Ugas,

who pulled the rug from under Pacquiao by unanimous decision.
"I knew (the upset) could happen. I've always said he was very slick, what happens is that Pacquiao is faster than everybody but it's all about timing, it's not about speed," James said in an interview with Fight Hub TV.
"If you can time him and he (Ugas) kept Pacquiao off beat and kept him off balance and he kept hitting him to the body and Pacquiao didn't want to engage him," he added. "I think Errol's a more vicious puncher and he probably would've knocked him out."
Ugas set the tone with his timely jabs that had Pacquiao thinking twice before surging forward with his usual aggression.
At 42 years old and coming off a 25-month layoff, it seemed like

Father Time

had caught up with the eight-division champion
But James dismissed that notion.
"We can't talk about his age and as long as he's still trying to fight these young guys, it's not about his age. Bernard Hopkins did it. Klitschko did it. You cannot talk about the age because if he keeps fighting like he wants to be champ you can't talk about his age."
James also doesn't see the point of Spence, who holds the IBF and WBC belts, fighting Pacquiao.
Pacquiao (62-8-2, 39 KOs), who made his pro debut in 1995 at minimumweight and won his first world title at flyweight, is mulling retirement as well as the possibility of running for the

Philippine presidency

.
RELATED STORIES

Get the hottest sports news straight into your inbox


Read Next


Australia's Greco grabs first gold at Tokyo Paralympics


EDITORS' PICK


MOST READ


Don't miss out on the latest news and information.




View comments