Duterte to Filipinos: Stop bickering over politics, support Marcos admin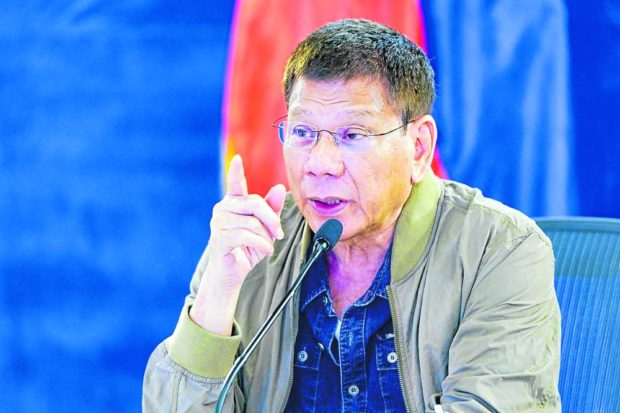 President Rodrigo Duterte. MALACAÑANG FILE PHOTO
MANILA, Philippines — A few weeks before he steps down, President Rodrigo Duterte called on Filipinos to stop the politicking and instead rally behind and support the incoming administration of President-elect Ferdinand "Bongbong" Marcos Jr.
"I hope that everybody would come to terms with the reality that we have a new government and I urge kayong (all) Filipinos to rally behind and support the new leaders. We want the next admin successful," he said in his taped public address aired on Monday night.
ADVERTISEMENT
Duterte noted that the Philippines must be "united in confronting the issues" surrounding the country and there is "no room for politicking or actions that are divisive to the country."
"Nagsalita na ang mga tao, may mga leader tayo. Ang ayaw ko, baka may maiwan pa na namumulitika pa rin or you know just plain criticizing itong bagong admin," he said.
(The people have spoken, we have our new leaders. What I do not want is that there would be some people who would do politicking or just plain criticizing the new administration.)
"President-elect Marcos would need the cooperation and help of everybody. We must give it to him. That's democracy. That is how we operate," Duterte added.
He proceeded to urge Filipinos to follow the will of the people that elected Marcos into power, advising the public to avoid politics.
"Lahat ng mga kaibigan ko na nagsuporta sa akin, will rally behind to the elected leaders of our country. Ganoon talaga ang pamaraan sa ating pang-gobyerno," the outgoing President said.
(All of my friends who supported me will rally behind the elected leaders of the country. That is the way this country is governed.)
Duterte is set to end his term by noon on June 30, the same day that Marcos will assume the presidency.
In 2021, Duterte had been critical of Marcos, calling the then-presidential aspirant a "weak leader" and a "spoiled child."
ADVERTISEMENT
READ: Duterte takes jab at Bongbong Marcos anew, calls him 'weak leader'
He had also expressed dismay about his daughter's decision to slide down and run for vice president – instead of running for president – in favor of Marcos despite her strong showing in the presidential surveys.
But in the days before the May 9 elections, Duterte changed his tune, saying that Marcos lived a "simple" life.
He also made a false statement that the government had found no ill-gotten wealth linked to the Marcos family.
RELATED STORY
Marcos caps campaign with kinder words from Duterte
KGA
Subscribe to our daily newsletter
Read Next
Vietnam minister, Hanoi mayor expelled from party over corruption scandal
EDITORS' PICK
MOST READ
Don't miss out on the latest news and information.
View comments