Aston Palicte suffers TKO loss to Jason Moloney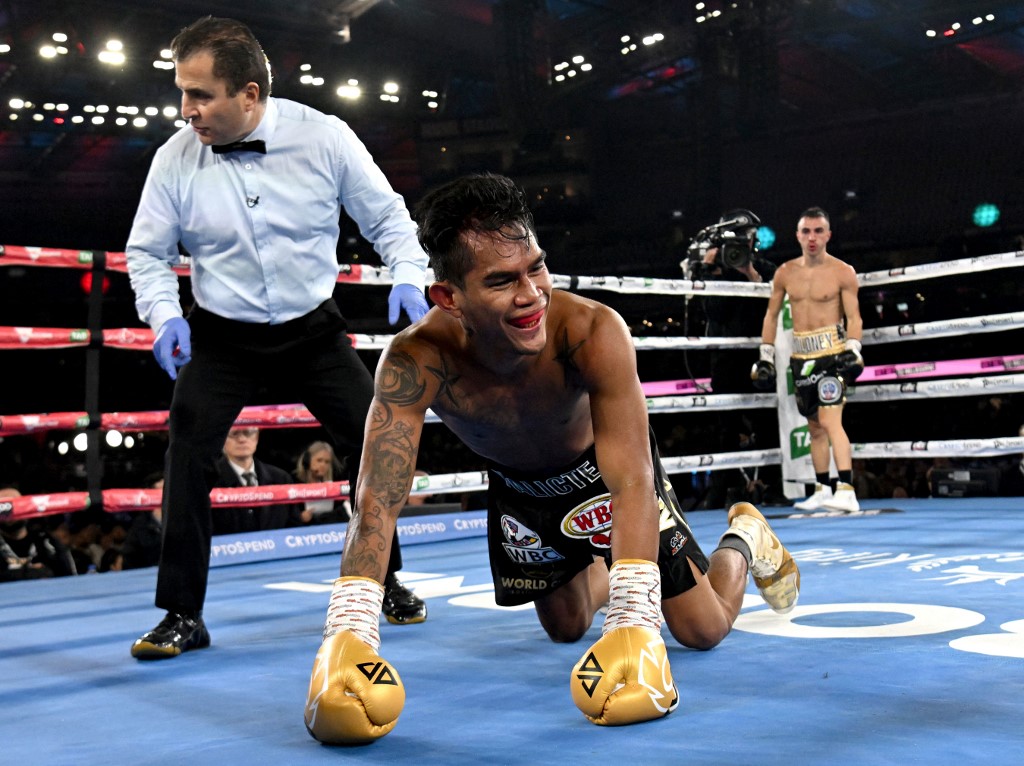 Jason Moloney of Australia (back R) waits in the corner after knocking down Aston Palicte of the Philippines (C) during their World Boxing Council (WBC) silver bantamweight and the vacant World Boxing Organization (WBO) International bantamweight championship title fight in Melbourne on June 5, 2022. (Photo by William WEST / AFP)
MANILA, Philippines—Aston Palicte suffered a TKO loss to hometown bet Jason Moloney in the third round of their bantamweight bout on Sunday (Manila time) at Marvel Stadium in Australia.
Palicte was knocked down twice in the third round before the referee stopped the match with 2:35 left in the round.
ADVERTISEMENT
The Aussie unloaded solid right-hand punches in the third round that floored Palicte.
Moloney won his third straight fight in front of a home crowd, improving his record to 24-2 with 19 knockouts.
Palicte had an impressive opening round landing uppercuts on Moloney. But the latter picked up the momentum in the final minute of the first round and got the better of exchanges in the second round.
The Filipino boxer saw his three-game win streak snapped by the Aussie, dropping to 28-5-1 with 23 knockouts.
RELATED STORIES
Get the hottest sports news straight into your inbox
Read Next
UAAP: 'Emotional' Faith Nisperos proud of Ateneo after dramatic win over Adamson
EDITORS' PICK
MOST READ
Don't miss out on the latest news and information.
View comments