Isko Moreno visits three Pampanga factories to listen to ordinary people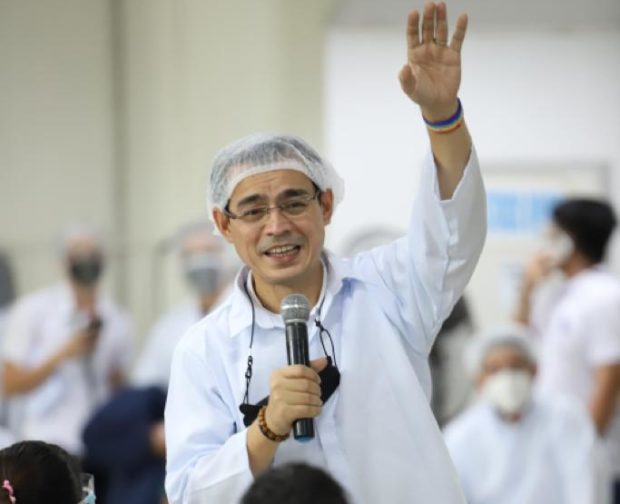 Presidential aspirant and Manila Mayor Francisco "Isko Moreno" Domagoso visits factory of Pampanga's best
SAN FERNANDO CITY, Pampanga

—

Manila City Mayor Francisco "Isko Moreno" Domagoso on Thursday visited three factories in this province and lauded the owners for managing their businesses well despite the onslaught of a pandemic.
Joining the Aksyon Demokratiko's standard bearer was his running mate Dr. Willie Ong, and senatorial candidates Moro civic leader Samira Gutoc; two-term Quezon City Councilor Jopet Sison, and registered nurse and licensed midwife Dr. Carl Balita.

ADVERTISEMENT

Moreno was impressed that despite the pandemic-induced lockdowns, the three factories did not have to resort to retrenchments unlike what happened to many micro, small, and medium enterprises (MSMEs) across the country.
Moreno visited the factory of Pampanga's Best, maker of tocino and other processed meats, in San Fernando; ABS Corp., manufacturer of rattan furniture, in Bacolor; and Co Am Philippines Inc., a re-exporter of used clothes based in Clark Freeport.
FEATURED STORIES
NEWSINFO

Drivers now required to take driver's education upon license renewal – LTO

NEWSINFO

Marcos Jr's 'special diploma' from Oxford: You can have it, too

NEWSINFO

Gordon to Duterte: You? Teaching me courtesy?

"I am very much impressed by what I saw today in the three factories we visited. These should be model companies during the pandemic. They never closed shop. Not a single employee was retrenched. And their business continues to thrive despite the lockdowns. I wish many small and medium enterprises can learn from them," he said.
Pampanga's Best is owned by spouses Jun and Lolet Hizon and employs 1,350 workers in the processing of tocino and longganisa. The company president is Mayor Jomar Hizon, a three-term mayor of Bacolor.
ABS Corp., which has 500 employees, is a leading manufacturer of rattan furniture being exported to the United States and sold in Walmart and Target, among others.
The company is owned and managed by Raul Aquino, a self-made man who also has other businesses, including construction, hauling, batching plant, and food franchise.
Aron Ang owns Co Am Philippines Inc. which imports used clothing and re-exports it to several countries after careful processing and repackaging.
Co Am has 1,600 employees and part of the company's corporate social responsibility is sending truckloads of used clothes to typhoon and calamity-hit areas.

ADVERTISEMENT

MSMEs (Micro, Small and Medium Enterprises) comprise 99.5 percent of business enterprises in the country. The remaining 0.5 percent of 4,761 are large enterprises that are mostly owned by Filipino taipans and oligarchs.
Of the MSMEs, micro-enterprises account for the biggest chunk at 89 percent (891,044) followed by small enterprises at 10 percent (99,936), and medium enterprises at 0.5 percent (41,765). MSMEs employ 63 percent of Filipinos and contribute to 40 percent of the gross domestic product (GDP).
As part of the Bilis Kilos 10-point agenda of Moreno, "the ease and cost of doing business should be improved" in order to encourage Filipinos to be entrepreneurial.
"To help local businessmen, we should increase the loan pool available to performing MSMEs from the current P1.5 billion to P30 billion," he said.
Moreno added: "It is also important that create more special agri-economic zones and improve our business climate to attract foreign direct investments or FDI."
Moreno believes that the attainment of a herd immunity through mass vaccinations will pave the way for the re-opening of business enterprises which will generate employment and hopefully lead to economic recovery.
Subscribe to our daily newsletter


Read Next


Pacquiao: Voters know who is faking public service


EDITORS' PICK


MOST READ


Don't miss out on the latest news and information.




View comments