Rights groups urge UNHRC to set up system for collecting evidence on EJKs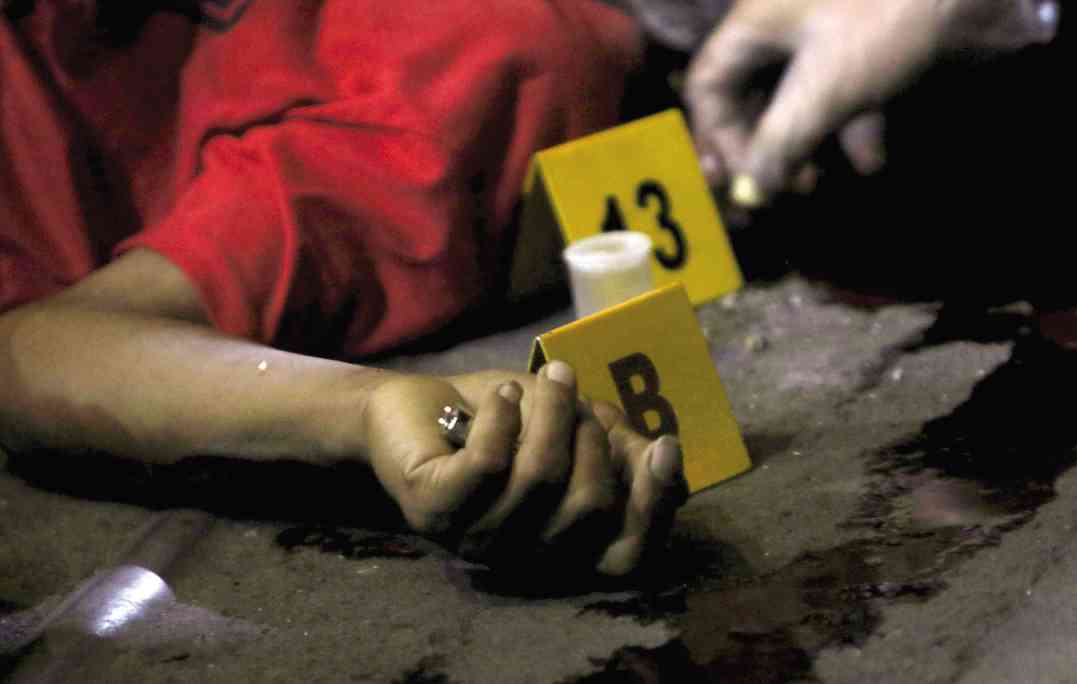 FILE PHOTO: A dead drug suspect known only as Melvin in front of Virgo Club along Commonwealth Avenue, Quezon City, in March 2017. RICHARD A. REYES / Philippine Daily Inquirer
MANILA, Philippines — Human rights groups on Thursday called on the United Nations Human Rights Council (UNHRC) to establish an international investigative system to collect evidence of alleged human rights violations in the Philippines.
In a joint oral statement, the groups stressed that "impunity for extrajudicial killings must be stopped."

ADVERTISEMENT

"We urge the Council to establish an adequately-resourced international investigative mechanism to collect and preserve evidence of extrajudicial killings and other serious human rights violations in the Philippines," they said.
The oral statement to the 48th Session of the UNHRC was from the Lawyers' Rights Watch Canada, Lawyers for Lawyers, International Association of Democratic Lawyers (IADL), International Service for Human Rights, Union Internationale des Avocats, International Bar Association's Human Rights Institute, and The Law Society of England and Wales, non-government organizations in consultative status and endorsed by the National Union of Peoples' Lawyers (NUPL).
FEATURED STORIES
GLOBALNATION

'We continuously assess' AUKUS security pact, says PH during Asean meet

GLOBALNATION

PH, Australia expanding maritime cooperation

GLOBALNATION

FBI raids Quiboloy's church in Los Angeles in human trafficking probe

The organizations stressed that they deplore the "ongoing pattern" of murders and attacks against human rights defenders in the Philippines.
According to them, at least 197 members of the legal profession have been murdered in the country since 2001, and killings of lawyers have escalated since President Rodrigo Duterte took office in 2016.
"Since then there have been at least 58 prima facie work-related murders of jurists – lawyers, judges, and prosecutors – with only a handful of investigations leading to prosecutions. There have also been numerous murders and attacks against defenders," the groups stressed.
They noted that despite two Council resolutions in 2019 and 2020, initiatives by the Supreme Court and a UN joint program agreed in July 2021, extrajudicial killings in the Philippines continue. They were referring to the program where the Philippine government and the UN agreed to engage in capacity-building and technical cooperation for the promotion and protection of human rights.

READ:

Philippines, UN launch human rights joint program


For the IADL, the joint program appears to be laudable on paper, "but the reality on the ground does not indicate any substantial positive effect."
It added that the killings, illegal arrests and searches, and hate speech against human rights defenders, activists, dissenters, and drug suspects continue unabated and that practices that enable these violations persist.

ADVERTISEMENT

"There is concern that the Programme will not provide concrete and effective remedies and accountability. While we critically engage and cooperate with efforts to address this situation, we fear that it will be used by the government to window dress impunity, resulting in paltry and belated investigations and ineffective accountability mechanisms," the lawyers said.
"We call upon the Council to act more decisively; heed the High Commissioner's recommendation to implement international accountability measures; and initiate its own independent investigation before more people are killed or persecuted," they added.
Meanwhile, NUPL President Edre Olalia noted how the Philippine government "went into chest-thumping" over the joint program with the UN, "welcoming new sources of funding and betraying that it is mainly a technical approach to the problem rather than for the establishment of responsive institutional and policy measures."
"The [Philippine] Mission also magnified on the few, late and far between cases review and disciplinary measures against an intolerably minute number of lowly erring police personnel, even as these are either aberrations or showcases rushed on the heels of the UNHCR Council and ICC (International Criminal Court) proceedings," said Olalia.
"Lastly, the Mission again stuck to its untruthful narrative on red-tagging, justifying it without remorse and continued to assume the pretentious posture that human rights issues must be 'depoliticized.' Alas, look who is talking," he added.
In a separate statement, Karapatan shared that the group and other international partners asserted in oral statements delivered before the 48th session of UNHRC that an independent international investigation about human rights abuses in the country is "overdue" amid the "continuing impunity" in the drug war.
KGA

Subscribe to our global nation newsletter


Read Next


UN rights chief urges gov't to release drug war probe reports


EDITORS' PICK


MOST READ


Don't miss out on the latest news and information.




View comments