Labor dep't won't recommend increase in deployment cap for nurses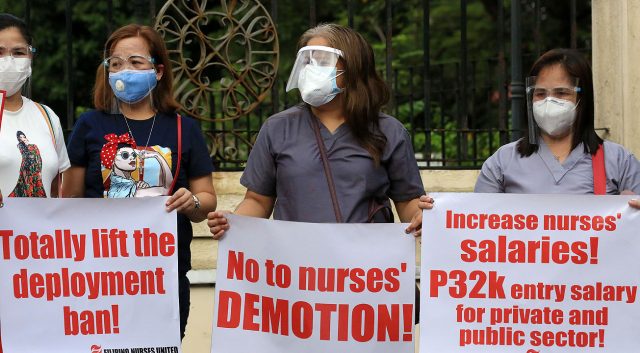 A TECHNICAL working group of the Department of Labor and Employment (DoLE) will not recommend an increase in the current 6,500 deployment cap on nurses this year, citing a supply gap of healthcare workers in the country as it battles the continued surge in coronavirus cases.


DoLE earlier said this year's limit has already been reached.


Labor Assistant Secretary Dominique R. Tutay said in a news briefing on Wednesday that the decision will be submitted to Secretary Silvestre H. Bello III for approval, then to the inter-agency task force handling the coronavirus response.


Ms. Tutay said the recommendation may still change later in the year, depending on the "replenishment of supply" of new healthcare workers, which will depend on how many graduates will pass the board exams in November.


"There is already a perceived supply gap," Ms. Tutay said, especially because the board examinations for healthcare workers were postponed in 2020.


She explained that there are additional healthcare workers in the country, but some do not want to work at all, or they work in other sectors, hence the supply gap.


The 6,500 cap does not include deployments to the United Kingdom and Germany, which have separate government-to-government agreements with the Philippines.


Ms. Tutay also said the technical working group recommended for the department to focus instead on pushing for the passage of House Bill 7569 and Senate Bill 1837, which will increase the pay and benefits of private sector healthcare workers.


DoLE is proposing that private sector healthcare workers get an entry level pay similar to that of public healthcare workers at Salary Grade 15 or P33,000 monthly.


"We studied the current version of bill and did our own version based on the current situation of healthcare workers in the country," Ms. Tutay said.

— Bianca Angelica D. Añago