Kaya FC seeks bounce-back win at AFC Champions League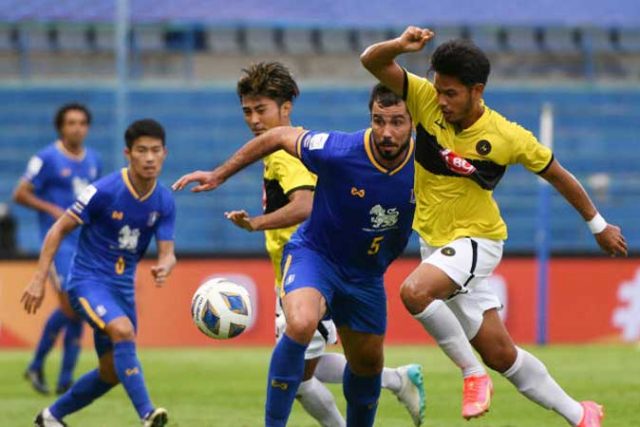 KAYA FC-Iloilo returns to 2021 Asian Football Confederation (AFC) Champions League (CL) action on Tuesday, looking to bounce back from a rough welcome it had in its debut match previously.
The Philippine club will take on Viettel FC of Vietnam in its second game in Group F of the tournament at the Pathum Thani Stadium in Bangkok, Thailand.
It will be a battle between two teams which dropped their opening group matches in the 2021 edition of the prestigious continental competition.
Kaya found the going tough in its ACL group stage debut last Saturday, dominated by the hometown champion BG Pathum United, 4-1.
Despite competing hard, the team just could not get the break it needed to keep in step with its opponent.
It, however, got a breakthrough goal late in the match from Marwin Angeles (81') to have something to build on heading into its next match.
"I'm very proud of our side, our boys gave 100%. They worked very hard… They did everything we asked of them before the game. I think for us now, we need to make sure we get up, stand up, and go again," said Kaya coach Graham Harvey after the game.
Adding, "Obviously, it's not nice to lose and we'd rather not experience that for the next five games, but we're also very glad to be here and learn from those experiences and make sure that we come back stronger."
Kaya's opponent Viettel, for its part, was dealt a 0-1 defeat by reigning ACL champion Ulsan Hyundai FC of Korea in its opener also on June 26.
Viettel was seemingly on its way to holding Ulsan Hyundai to a nil-nil draw until the latter scored in the 91st minute from substitute Lukas Hinterseer to score the victory.
Despite the loss, Viettel remains upbeat and is looking to do better in its remaining assignments.
"I want to say it was a good game for us. We had good fighting spirit," said head coach Heinz-Jürgen Gede post-match.
Group I play
Meanwhile, reigning Philippines Football League champion United City Football Club, who plays in Group I at the ACL, also returns to the pitch on Tuesday against Korea's Daegu FC at the Bunyodkor Stadium in Tashkent, Uzbekistan.
United City was held to a 1-1 draw by Beijing FC of China in its opening match.
Stephan Schröck scored first for United City in the 28th minute of the contest but was answered by Beijing FC captain Liang Showen in the 73rd minute with a free kick.
United City tried to regroup and create chances for the go-ahead goal, but Beijing FC's defense held steady en route to the match ending in a stalemate and the teams getting a point each.
Coach Jason Withe of United City admitted his disappointment after the game, feeling they allowed a good opportunity to get a full three points to slip away.
"I'm very disappointed. I think we dominated for large periods of the game. You look at possession, it's probably 70 percent possession for us, one shot on goal [for Beijing], which was obviously a great free kick," he said.
In the AFC Champions League, the top teams in each of the groupings advance to the Round of 16 with the second-place clubs qualifying if they end up as among the best runner-up teams. — Michael Angelo S. Murillo