OCTA Group backs plan to ease metro lockdown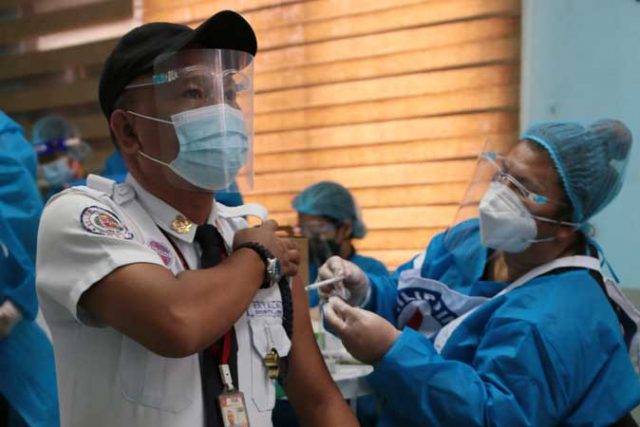 Vann Marlo M. Villegas, Reporter
A GROUP of researchers from the country's premier university on Sunday backed a plan to ease the lockdown in Metro Manila as coronavirus infections continue to fall.
"We support that because the situation in the National Capital Region is improving," Guido David, a research fellow at the OCTA Research Group, told ABS-CBN News TeleRadyo in Filipino. "We can take some risks in opening up businesses."
The presidential palace earlier said the capital region and nearby provinces including Bulacan, Cavite, Laguna and Rizal could be placed under a looser general community quarantine this week.
The share of daily coronavirus cases in Metro Manila have gone down to 27% of the national tally from 94% during the peak on March 29 to April 4, Mr. David said.
The virus reproduction rate — the number of people infected by a virus patient — in Metro Manila stood at 0.72, while the infection rate was down to 8%, he added.
Metro Manila and nearby provinces will be under a general quarantine, with additional restrictions until June 15.
Mr. David said Davao City had been logging the highest daily tally though it is on a downtrend.
He said the government should consider easing the lockdown in more areas as more people get vaccinated against the coronavirus, he added. More foreign tourists who have been vaccinated might be allowed to get in.
Vaccine czar Carlito G. Galvez, Jr. earlier said the government seeks to vaccinate half-a-million Filipinos daily in Metro Manila and eight other key economic hubs to protect the population by Nov. 27.
About 6.31 million Filipinos have been vaccinated as of June 8, about 1.7 million of whom had taken their second shot.
The Department of Health (DoH) reported 7,302 coronavirus infections on Sunday, bringing the total to 1.32 million.
The death toll rose by 137 to 22,788, while recoveries increased by 7,701 to 1.23 million, it said in a bulletin.
There were 59,865 active cases, 1.3% of which were critical, 91.2% were mild, 4.6% did not show symptoms, 1.8% were severe and 1.26% were moderate.
The agency said 15 duplicates had been removed from the tally, nine of which were tagged as recoveries and another as a death. Sixty-five recoveries were reclassified as deaths. One laboratory failed to submit data on June 11.
About 13.2 million Filipinos have been tested for the coronavirus as of June 11, according to DoH's tracker website.
The coronavirus has sickened about 176.4 million and killed 3.8 million people worldwide, according to the Worldometers website, citing various sources including data from the World Health Organization.
About 160.4 million people have recovered, it said.
An inter-agency task force last week approved an order allowing fully vaccinated senior citizens in areas under a general lockdown to go out.
Presidential spokesman Hermino L. Roque Jr. on Friday said fully vaccinated citizens in areas under a general community quarantine and modified general quarantine could now go out.
Seniors can only travel within their zone except for point-to-point travel, he said in a statement.
The government earlier shortened the quarantine period to seven days from 14 days for fully vaccinated inbound travelers.
These travelers are no longer required to undergo swab tests upon arrival. They will only get tested if they exhibit symptoms within the seven-day quarantine.
A person is considered to have been fully vaccinated at least two weeks after receiving the his second dose, at least two weeks after receiving a single-dose vaccine.
A fully vaccinated person must carry his vaccination card before departure.