Destination up north: Ayala Land takes Central Luzon to new heights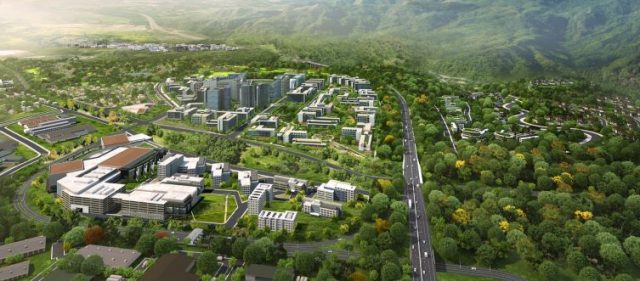 Propelled by economic movement and infrastructure support, Ayala Land's Alviera in Pampanga and Cresendo in Tarlac are destined to be the region's growth engines
While Metro Manila's core and fringes are now filled with some of the country's top urban centers, its northern neighbors in Central Luzon are bursting with fresh promise. The provinces of Pampanga and Tarlac are undergoing developments that will soon epitomize growth outside of the nation's capital — as seen in the Alviera and Cresendo Estates of leading property developer Ayala Land, Inc. (ALI).
Combining a remarkable mix of economic energy and relaxing suburban pace, ALI's Alviera and Cresendo estates are already showing vigor for high-investment potential. Top property consultancies recently reported a renewed interest in residential property purchases, particularly in places outside of Metro Manila. Colliers, in their first quarter report for the year, shared that house-and-lot investments are on the rise, with buyers' preference shifting to spots outside of Metro Manila such as Central Luzon.
The commercial and residential interest in Central Luzon is further boosted by improvements in infrastructure, which will support the region's thriving communities and maximize investors' gains. One of the country's major gateways, Clark International Airport, is strategically located in Angeles, Pampanga while ongoing national projects such as the Central Luzon Link Expressway-Phase I and Subic-Clark Railway are set to complement the existing North Luzon Expressway, Subic-Clark-Tarlac Expressway, and Tarlac-Pangasinan-La Union Expressway.
With market confidence and infrastructure in place, Alviera in Porac, Pampanga, and Cresendo in Tarlac City are poised to bring ALI's seasoned and distinct development touch to the north, while enabling more opportunities for Filipino businesses, families, and individuals to realize their goals through integrated yet relevant commercial and lifestyle offers.
Consonance of lifestyles amid nature
Showcasing ALI's master-planning expertise are Alviera's four main districts which will comprise the 1,800-hectare development. Together, these districts will present a spectrum of settings for a lifestyle that seamlessly melds business, leisure, tourism, and education. ALI's development ethos also ensures that Alviera will capture urban conveniences, while still being strongly grounded in nature, an intrinsic feature of the property.
Alviera's first district is the City Center, the community's central business district. Here, offices stand side by side with retail and commercial establishments that can house both local and multinational operations. The district also hosts the Alviera Country Club, a key lifestyle anchor and the first of its kind in Central Luzon. Residential spaces, parks, and open grounds round up this contemporary core, which will serve as the development's nucleus.
The east and west sections of the property are also groomed for polar yet harmonizing features. Alviera East will host the new campus of the Holy Angel University, one of the region's most esteemed institutions, while the 64-hectare Alviera Industrial Park will house light to medium industries which will provide work opportunities for communities in the area. The park is aimed to become one of Pampanga's premier business hubs and will be open to PEZA and non-PEZA registered companies. On the other end of the property is Alviera West, which is designated for leisure and tourism-related establishments. Themed hotels, wellness centers, and recreational developments are set to rise in this part and will be fused with pockets of retail and residential spaces that look out to a rich natural landscape.
These three sections will be connected by the Alviera Greenbelt, the last of the estate's four districts. This five-kilometer open space will be headlined by the La Salle Botanical Gardens, an environmental and educational facility with 25 themed gardens, a laboratory, a plant nursery, greenhouses, and libraries.
Historic charm in a city of the future
ALI has also moved further north to Tarlac City, the province's capital. The 290-hectare Cresendo will amplify Tarlac City's position as one of the Philippines' high-potential cities as recognized in the Digital Cities 2025 report. With IT and business process management as new growth founts for the city, an integrated estate like Cresendo can help supercharge Tarlac City's development trajectory.
Cresendo is built with local elements as inspiration, promoting design and an estate plan that calls to mind poblacions from the province's storied past. The vision is to keep Tarlac City's charming local character while propping it for expansion and growth through the property.
Cresendo Downtown and Cresendo Industrial Park are the estate's main draws, each occupying 47 hectares and 32 hectares, respectively. Cresendo Downtown serves as the property's set piece, housing commercial, civic and institutional establishments such as a church, a K-12 school, a technical training center and the focal Cresendo Town Plaza. This 1.5-hectare plaza will visually take visitors and residents to a bygone era while also providing modern comforts and areas for seasonal activities and community events.
Commercial lots will be available in the Cresendo Downtown together with micro commercial lots where Shophouse-style commercial spaces will be built in 20th-century architectural blocks, making this part of the estate a truly dynamic and unique spatial experience. These shophouse lots are aimed to serve small businesses whose owners and employees would opt to live next to their jobs and ventures.
Like its equivalent in Alviera, the Cresendo Industrial Park will support light to medium industries. The park will feature industrial lots with sizes ranging from 1,300 sq.m. to 15,000 sq.m. and is expected to provide 2,000 new jobs to Tarlac City's residents and other nearby communities. ALI has reported manufacturing, packaging, logistics, and warehouse companies as new sign-ups in this new economic hub.
Navigating Cresendo also hails ALI's use of natural scenery as the property boasts of 30% of open space. Cresendo will also have a 1.5-kilometer greenway for walking around while incorporating the 7-hectare River Terraces, a multi-functional sustainable garden.
Strong investment in new centers of growth
The creation and development of ALI's Alviera and Cresendo Estates indeed define the next stage of growth in Central Luzon, while also providing businesses, families, individuals, and investors new opportunities. These estates are expected to benefit from the region's rising economic potential as supported by public and private projects that aim to bring development outside of Metro Manila.
Those keen on riding on this wave of development can also rely on ALI's long-held track record and expertise in property development, with an estate portfolio that corners the most sought-after properties in the Philippines. Everyone is invited to explore and join the movement towards modern communities up north with Alviera and Cresendo Estates.